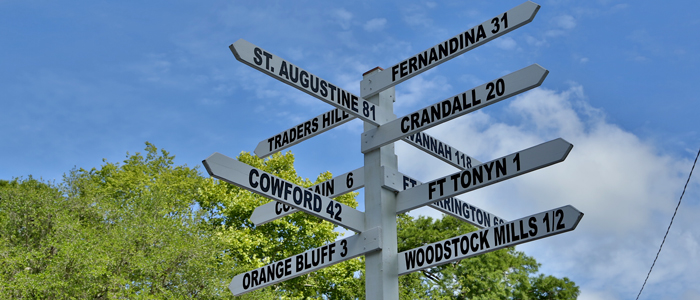 Our Current Situation
Nassau County is at a crossroads. We are blessed with abundant, unparalleled natural beauty and numerous locational advantages. Yet, as a community, we have difficulty in effectively planning needed changes and addressing the challenges of population growth.
In reality, we are facing the following:
In 2000, Nassau County's population was approximately 58,000 residents. Now, our population has soared to over 88,500, resulting in a 53-percent increase in just 20 years, stretching county resources to threatening levels.
Of the county's total working population, more than 70 percent leave the county daily for work elsewhere, resulting in an enormous loss of tax income from a lack of local, well-paying jobs that help to offset increased infrastructure and service costs.
Our Guiding Principles
Citizens for a Better Nassau County is committed to four primary guiding principles that comprise our mission:
We believe

integrity in all business dealings is of paramount importance, particularly relating to matters of the public trust.

 

We promote

fiscal prudence 

in all county government matters and the replacement of outdated finance methods with new efficiencies.

We believe meaningful, long-term strategic programs must be initiated to drive private capital investment into the county that in turn bolsters recurring tax income and offsets residential taxpayer-funded capital investment.
We encourage accountability from politicians and government employees and embrace transparency and fairness as fundamental to their service to our community.
Our Vision
While some modest progress has been made to bring our county government into alignment with other fast-growing counties in Florida, much more needs to be done to combat anticipated financial challenges from colliding with differences among our elected leaders, which is resulting in lost opportunities and a deteriorating tax base. The following is our vision to move Nassau County forward and tackle our challenges:
Balanced growth that pays for itself is an absolute requirement to offset the continued unwinding of county finances;
A concerted commitment to create a much broader and diverse tax base to significantly decrease the county's dependence on residential property taxes as the primary source of county income;
A dedicated and measurable effort to move toward environmental sustainability as a practical means of attracting well-educated, productive residents who value the tangible benefits a holistic lifestyle offers and the corresponding high-wage jobs they bring; and
Regularly updated and equitable impact fee ordinances on all new construction to pay for all civic infrastructure-related costs, as well as recurring maintenance costs.
The issues challenging Nassau County are not new. Experts in government finance and fiscal sustainability have, for many years, repeatedly warned our elected leaders the path we are on is unsustainable. These same experts recommended specific actionable steps to set our county on a new and more prosperous course. Virtually all of these recommendations, many of which are embedded in our guiding principles above, have yet to be properly addressed. 
The economic costs of willful neglect in government are substantial and it has had a corrosive impact on our community. We must continue to promote ethics in government, accountability, transparency, and the traceability of the public decisions and careful stewardship of public funds.